Standing Up for Ireland's Future
Creating Jobs and Protecting Workers Rights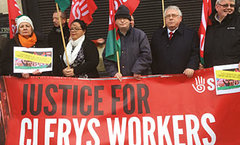 Over the past three years 140,000 new jobs have been created and we are creating over 1,000 new jobs per week. Unemployment dropped from 15.3% to 8.6%.
This contrasts starkly with the haemorrhaging of jobs under the previous administration. The moratorium on public sector recruitment is over and new nurses, teachers and Gardaí are now being recruited to rebuild our public services. We have tripled the number of apprenticeships and increased the number of sectors where apprenticeships are offered as a learning path to a career. Low paid workers are being protected: We established the Low Pay Commission and we have already restored and increased the minimum wage twice after the savage FF cut. We have removed 700,000 low income workers from USC and have reduced the USC rates for low and middle income earners. Over 100 years after the 1913 Lockout we have introduced Collective Bargaining Legislation to protect workers' rights to join a union.
In Dublin Central Joe was to the fore of the Campaign for Justice for the Clery's workers and has been working closely to ensure that workers and their families are at the forefront of the recovery, that the relationship with their employer is transparent and respectful and that business deals exploiting employees, as happened in Clery's, can never happen again in Ireland.
We are committed to creating full employment by 2018. We are also committed to ensuring that these jobs will attract a fair day's pay for a fair day's work; ending zero hours contracts; introducing a living wage of €11.50; abolishing USC for people earning under €72,000; ensuring jobs for all by 2021.
Health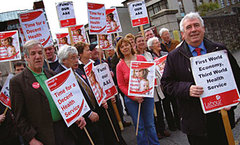 Primary Health Centres at Navan Road, Summerhill, North Strand and Grangegorman will all be completed in 2016 – providing local health care and taking the pressure off hospital A&Es.
An Gaeilge
Seasann Joe agus Pairte an Lucht Oibre go laidir ar thaobh ár dteanga. Is í ár n-aidhm ná stádas na Gaeilge a ardú mar theanga choiteann agus a ról sa saol culturach aguas acadúil a athneartú.
Work as Minister
As Minister for Trade Joe opened up new markets abroad for Irish goods which helped our economic recovery. As Minister for Development he produced Ireland's policy on international aid for elimination of extreme poverty and disease in developing counties. On the Public Accounts Committee, he challenged without fear or favour.
Crime & Policing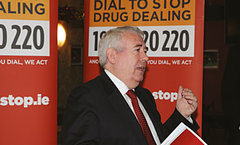 As a Member of the North Inner City Drugs Task Force and Community Policing Forum, Joe is all too aware of the impact crime and drugs have on our communities in Dublin Central.
We have introduced far-reaching reforms of policing in Ireland including, the establishment of the new independent Policing Authority and the Human Rights and Equality Commission. We have restarted recruitment of new Gardaí. We are refurbishing the Bridewell Garda Station and will reopen Fitzgibbon Street Garda Station.
600 new Gardaí are being recruited at present, Gardaí will be fully resourced to tackle gangland crime and the Special Criminal Court will be maintained.
Housing & Regeneration
The collapse of the construction and banking industries heralded one of the greatest housing crises of our times. We are investing €3.8 billion for the delivery of social housing – the largest ever state investment in social housing with 14,000 new housing units due to be built this year. In addition, €52 million has been spent on the refurbishment and upgrading of 4,700 local authority units. We have also ensured a new deal for renters with the introduction of a two year rent freeze and the creation of deposit protection scheme. And we are working to help those with mortgage arrears by setting clear measurable targets for banks to propose sustainable long-term solutions.
In Dublin Docklands Joe is co-ordinating a group of stakeholders to ensure that the local community benefits from the NAMA €2 billion investment in the Strategic Development Zone (SDZ). He has secured commitments from NAMA and the Construction Industry Federation on a 20% local labour clause; on the long awaited social housing in North Docklands and from Dublin City Council on the provision of a community facility for the promotion of the rich heritage and culture of the Docklands.
Our Proposals
End the scandal of homelessness by building 20,000 new social housing units.
Introduce a save-to-buy scheme worth up to €6,000 for first-time buyers.
Restart the regeneration projects in O'Devaney Gardens, Dominick Street and Croke Villas.