Joe's Track Record for Dublin Central
It is now almost five years since the last General Election in early Spring 2011. On that occasion the people of Dublin Central were kind enough to elect me to represent them in Dáil Éireann.
My Work in Dublin Central
I have worked hard over the last five years as your public representative. I have a constituency office in Phibsborough, I hold advice centres throughout the North Inner City and Cabra and I also hold a sign language advice centre at the Deaf Village, Cabra. I am readily available at all times to meet, discuss and act on issues of concern and of importance at local and national level.
I have contributed to the development of the new third-level DIT campus at Grangegorman, and I am a long-standing member of the Grangegorman Consultative Committee. The primary- and second-level school building and refurbishment programme has been very extensive in Dublin Central. Moreover, a number of new schools are in the pipeline, including a Gaelscoil in Cabra, an Educate Together school in Grangegorman, and the Girls' and Boys' Junior Schools in the North Wall together with a range of school improvement works across the constituency.
I initiated a clean-up strategy with Dublin City Council and local residents to tackle the litter and dumping in Stoneybatter, and I work with other community groups to improve their areas.
I have worked with local residents and groups to develop a new Phibsborough Local Area Plan, and I will continue to seek its reinstatement. I helped to negotiate a secure future for Bohemian FC at Dalymount Park. The purchase of Dalymount Park by Dublin City Council will not only secure these historic grounds for football but will also include community, sporting and heritage activities.
I have supported a number of arts and heritage groups across Dublin Central including Phizzfest, The Complex, D-Light Studios, The Five Lamps Festival, and the Dock Workers Preservation Society. I helped to re-establish the Monto Festival in the North Inner City after twenty-five years.
I protested outside the Mater Hospital on the North Circular Road every Saturday for over ten years until a new state of the art Accident and Emergency Unit was constructed to replace the dilapidated and overcrowded prefabs. Moreover, the four new primary care centres for the Navan Road, Grangegorman, North Strand and Summerhill will reduce the pressure on the Mater A&E by the end of 2016.
I am supporting the communities in Claremont and The Willows in the efforts to have the telecommunications Mast that is intruding on their lives and their environment relocated.
I work with a strong group of stakeholders in Dublin's Docklands to ensure that the latest phase of development delivers social and economic regeneration in equal measure so as to benefit the local people in North Wall, East Wall and the Inner City.
I deal personally with homeless and housing issues on a daily basis.
I am working with communities in East Wall, North Strand, Cabra and Clonliffe to tackle the problem of flooding and flood insurance.
When I became aware of the threat to post offices in Cabra, I immediately engaged with the Ministers for Social Protection and Communications to ensure that no closures would take place and that new services would be made available to the national post office network to enhance their role as an essential urban and rural facility serving the people.
I am a long-standing member of the Community Policing Forums in Cabra and the North Inner City. I have received written commitments from the Minister for Justice that Fitzgibbon Street Garda Station will re-open and that the Bridewell will be extensively refurbished. Moreover, the numbers of Gardaí are being increased in Cabra and the North Inner City as the present training and recruitment drive continues.
I was honoured to be asked by Michael D. Higgins to be Director of Elections for his successful Presidential Campaign in 2011. He is a President who has done us proud.
Work as Government Minister
I was honoured to serve as Minister for Trade and Development from 2011 – 2014. I led countless delegations of small and medium businesses to the four corners of the globe to expand existing markets and to open new markets abroad at a critical time when the Irish domestic consumer market was stagnant or in decline. The economic recovery is all the stronger now because of these new markets.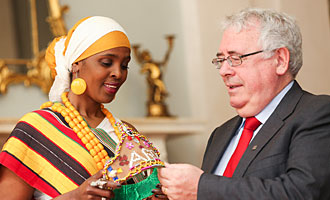 I produced Ireland's first policy document on International Aid One World: One Future through a nationwide consultative process. The new policy focuses and directs Ireland's contribution to the elimination of poverty and disease throughout the world.
During my time as Minister, I sought to lead by example: I never used a State car or State Driver and I sought to travel economy class at all times when I travelled by train or by plane on trade and development missions.
Since 2014, I am no longer a Minister. I now serve as a member of the Public Accounts and Health Committees, two of the most important Committees in the Oireachtas.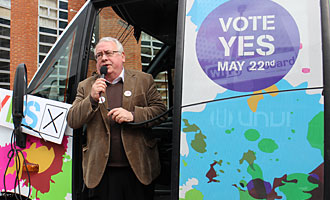 Marriage Equality was one of the great achievements of this Government. The sense of relief, freedom and sheer happiness was palpable throughout Dublin Central, which had the third highest yes vote in the country at 73%. I was proud to run a vigorous campaign and work with Yes Equality Groups across the constituency. There is still much to be done on gender and other equality issues in the next Government.
Now, as the election looms and we look to the future, I wish to present my track record over the past five years as your public representative for consideration. I hope you will agree that I have done my best to represent you honestly and fairly and that I worked at all times for the betterment of our community and country.
Yours sincerely,
Joe Costello TD