Saving Gaelscoil Bharra
The pupils of Gaelscoil Bharra, who have studied in dilapidated prefabs for the last twenty years have now got the go-ahead for their new school. The Letter of Acceptance has issued to the contractor from the Department of Educations and Skills. It is now a matter for the contractor to go on site. Work should begin within the next two weeks.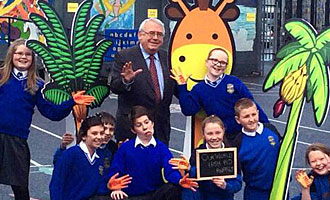 This is great news for the pupils, staff and parents who have campaigned for so long for their new school. It is also good news for the local residents of Cabra, Phibsborough and Stoneybatter, who take pride in their national language and want an Irish school in their community.
Last Friday, an unexpected delay was announced by the Department of Education and Skills. They said that they would have to profile expenditure for the coming year and this would delay the project for an indefinite time.
The prospect of another election taking place without the sod being turned was unthinkable. I worked closely with the Tánaiste, the Minister for Education and Skills, and the Minister for Public Expenditure and Reform over the last few days to iron out the problems.
The problems have now been resolved, and I am delighted to be able to assure everybody associated with Gaelscoil Bharra that their school is on the way at last. The letter from Minister Jan O'Sullivan confirming the good news is below.
I have also confirmed with Minister O'Sullivan that she will carry out the formal launch in the coming days.
Yours sincerely,
Joe Costello TD
26th January 2016
Dear Joe,
I refer to our conversations in relation to Gaelscoil Bharra over recent days.
The capital budget for the Department of Education this year is €545m – of which more than €420m or 75% will be invested in school building and refurbishment.
This is part of a €4bn capital investment in the education sector announced as part of the Capital Plan out to 2021.
Given the scale of this year's capital budget it is important that it is managed effectively and prudently. This is a feature of every capital budget in every Department.
Before commencement dates can be entered into the Department needs to complete it financial planning exercise for this year.
This has resulted in a delay of a few weeks for a couple of projects, but has not as some have suggested meant that any project is cancelled or substantially delayed.
I can understand the frustration of parents and staff with any delays to school building projects, but it is important that we are prudent in how we manage our expenditure.
The work to profile expenditure for the year has now been completed. In relation to the specific project in Gaelscoil Bharra, this allows the Letter of Acceptance to issue to the contractor for this project today.
It is a matter for the contractor to determine when work will begin onsite, but work should certainly begin within the next fortnight.
This school has been in prefabs for 17 years, during which time successive Governments made many promises, which they failed to keep.
This Government, on the other hand, promised that building would begin on this project under the five year school building programme 2012-2016. As I have made clear, that will happen within the next fortnight.
As you know this Government, despite significant financial pressures, has continued to invest in new school buildings.
Since 2011 more than €2bn has been invested in schools infrastructure with more than 300 new builds or major extensions completed or underway.
It is an investment that this Government can be proud of.
Yours sincerely,
Jan O'Sullivan, T.D.
Minister for Education and Skills