Clean-up in Stoneybatter
Since July 2015, I have organised a series of clean-ups in the Stoneybatter area. They have been a great success, with many residents participating and establishing street cleaning groups in their area.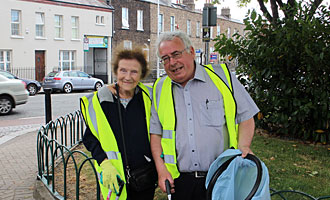 The monthly clean-up is a statement of intent that we want our community free of litter and rubbish, looking its best and an attractive place to live.
The purpose of this initiative is to highlight the problem of dumping and littering in the Stoneybatter area and to provide a community response. 
In the long-term there is a need for a more effective approach: it requires community engagement; engagement with the business sector and landlords. It requires more CCTV cameras to identify those who are creating the problem. It requires close collaboration between Dublin City Council and the community.
Dublin City Council provide the necessary tools, such as brushes, shovels, litter pickers, plastic bags and high visibility vests. They will also removed the litter collected immediately afterwards.
If you are interested in participating in our general clean-up, please get in touch with Joe.
Helpful Advice to Keep Stoneybatter Litter Free
Following these guidelines will help keep our community litter free:
Collection day in Stoneybatter is every Tuesday
Recycling collections are every two weeks.
All waste should be presented in a proper bin or appropriate pre-paid or labelled bag provided by the waste collector
Bags or bins should not be presented for collection before 6.00p.m. the day before collection
Common items found in recycling bags that could cause it to be refused by the waste collectors include:

Glass
Nappies
Clothing
Cigarette butts
Contaminated food packaging

There is also a recycling Bring Centre on Grangegorman Road. There is no charge to use this facility. Only recyclable materials are accepted at this centre – general household waste is not accepted here.
Dublin City Council Litter Wardens monitor all bags without proper labelling.
Fixed penalty fines of €150 are imposed on anyone found to be responsible for dumping or littering.
Residents who see dumped bags/items on the street can report these to the Central Area Litter Hotline at 1800 248 348 or littercentral@dublincity.ie.